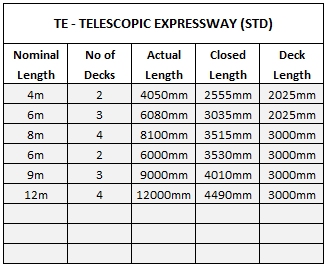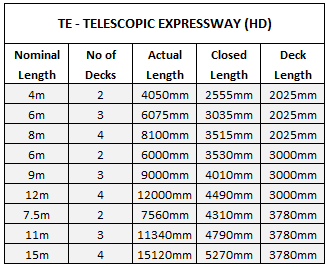 Conveyor Overview
The Telescopic Expressway (TE) Conveyor is a robust workhorse, designed for the manual loading and unloading of articulated trailers and containers.
The low-level conveyor design makes this unit ideal for applications involving, but not limited to dock level, loading bays, and warehouse platforms.
Conveyors are manufactured using high-quality materials using superior quality British manufacturing and a 12-Month Manufactures warranty without compromising on price.
Low-level gravity conveyors are manufactured with 3mm channel profiles, fully welded for additional strength.
Telescopic decks are fitted with high-impact 50mm diameter PVC rollers, which seamlessly transfer products over 20mm diameter, smooth-rolling deck transfers.
Travelling deck transfers create a gradual and consistent flow of boxes, cartons, and containers throughout the conveyor's length.
Smart engineering allows quick adjustment between decks, by way of a rotating screw jack adjustment.
Deck adjustment allows the operator to control the speed at which product transfers between decks, utilizing the product's gravitational force.
Support stands are fitted with full swivel braked 125mm diameter rubber tyre castor wheels as standard, with an upgrade available to 150mm diameter heavy-duty castors where required.
For additional accumulation, flexible conveyors can be selected and integrated, to give an additional end of line accumulation.
Adaptable options such as this, increase the conveyor's ergonomics, helping to negate factory layouts, improve workspaces and working environments, and most importantly minimizing the risk of operator injury or harm
All parts are supplies either bright zinc plated or powder-coated BS 4800 18-E-53 as standard, with alternative colour options available.
The Telescopic Expressway, therefore, remains an ever-popular, solid, and cost-effective solution where the unloading of containers and/or trailers is required in a fast, efficient, and safe manner.
A High-Level Telescopic Expressway is also available for applications, where a level dock is not available.
CUSTOMER SUPPORT
Our conveyors are supplied as standard with a 12 Month Manufacturers Warranty.
Conveyors are supplied fully assembled and ready to go.
For additional information on loading conveyors, please contact us.