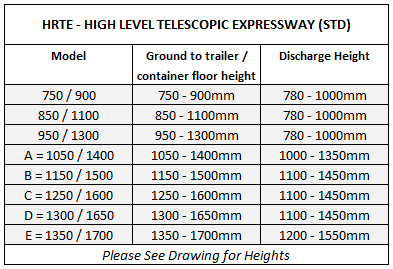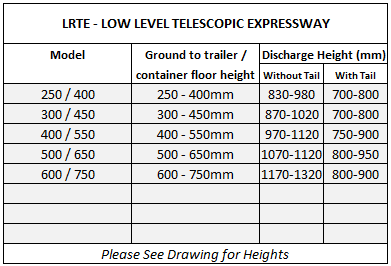 CONVEYOR OVERVIEW
The High Rise Telescopic Expressway (HRTE) is a free-running, heavy-duty Conveyor, designed for the safe, efficient, and cost-effective solution for the unloading of articulated trailers and containers.
The high-level conveyor design makes this unit ideal for manual applications involving where no electrical power or specifically designed platform or level loading dock is available.
Conveyors are manufactured using high-quality materials using superior quality British manufacturing and a 12-Month Manufactures warranty without compromising on price.
High-level gravity unloading conveyors are manufactured with heavy-duty channel profiles and a robust chassis frame, which is fully welded for additional strength and rigidity.
In-feed and Out-feed heights are available for multiple applications suiting common trailer and container floor heights. A reconfigured version of the HRTE names LRTE (Low-Rise Telescopic Expressway) is a hybrid unloading conveyor suiting low vehicle trailers and vans.
Telescopic decks are fitted with high-impact 50mm diameter PVC rollers, which seamlessly transfer products over 20mm diameter, smooth-rolling deck transfers.
Travelling deck transfers create a gradual and consistent flow of boxes, cartons, and containers throughout the conveyor's length.
Smart engineering allows quick adjustment between decks, by way of a rotating screw jack adjustment.
Deck adjustment allows the operator to control the speed at which product transfers between decks, utilizing the product's gravitational force.
Where box speeds travel too quickly, an optional deck skid plate is available to reduce product speeds.
Offering a 10m penetration into the vehicle ensures maximum operator productivity. Once the unloading process has been completed, sections can simply be unhooked from one another, compressed, and conveniently stored.
In-feed Support stands are fitted with 125mm & 160mm diameter rubber tyre castor wheels as standard, absorbing product impact from the loading process.
As standard, gravity unloaders are supplied with a 3m Tail Board. This allows products to continue to a further offload point towards ground level. The 3m Tailboard is fitted with a removable end stop plate as standard.
For additional accumulation, heavy-duty flexible conveyors can be selected and integrated, to offer a more comfortable working height and further product accumulation.
Adaptable options such as this, increase the conveyor's ergonomics, helping to negate factory layouts, improve workspaces and working environments, and most importantly minimizing the risk of operator injury or harm
All parts are supplies either bright zinc plated or powder-coated BS 4800 18-E-53 as standard, with alternative colour options available.
The High Rise Telescopic Expressway, therefore, remains an ever-popular, solid, and cost-effective solution where the unloading of containers and/or trailers is required in a fast, efficient, and safe manner.
A Telescopic Expressway is also available for applications, where a level dock or platform is available.
CONVEYOR OVERVIEW
Our conveyors are supplied as standard with a 12 Month Manufacturers Warranty.
Conveyors are supplied fully assembled and ready to go.
For additional information on loading conveyors, please contact us.