FLEXIBLE CONVEYORS - Standard Product Range
STEEL BZP SKATE-WHEEL FLEXIBLE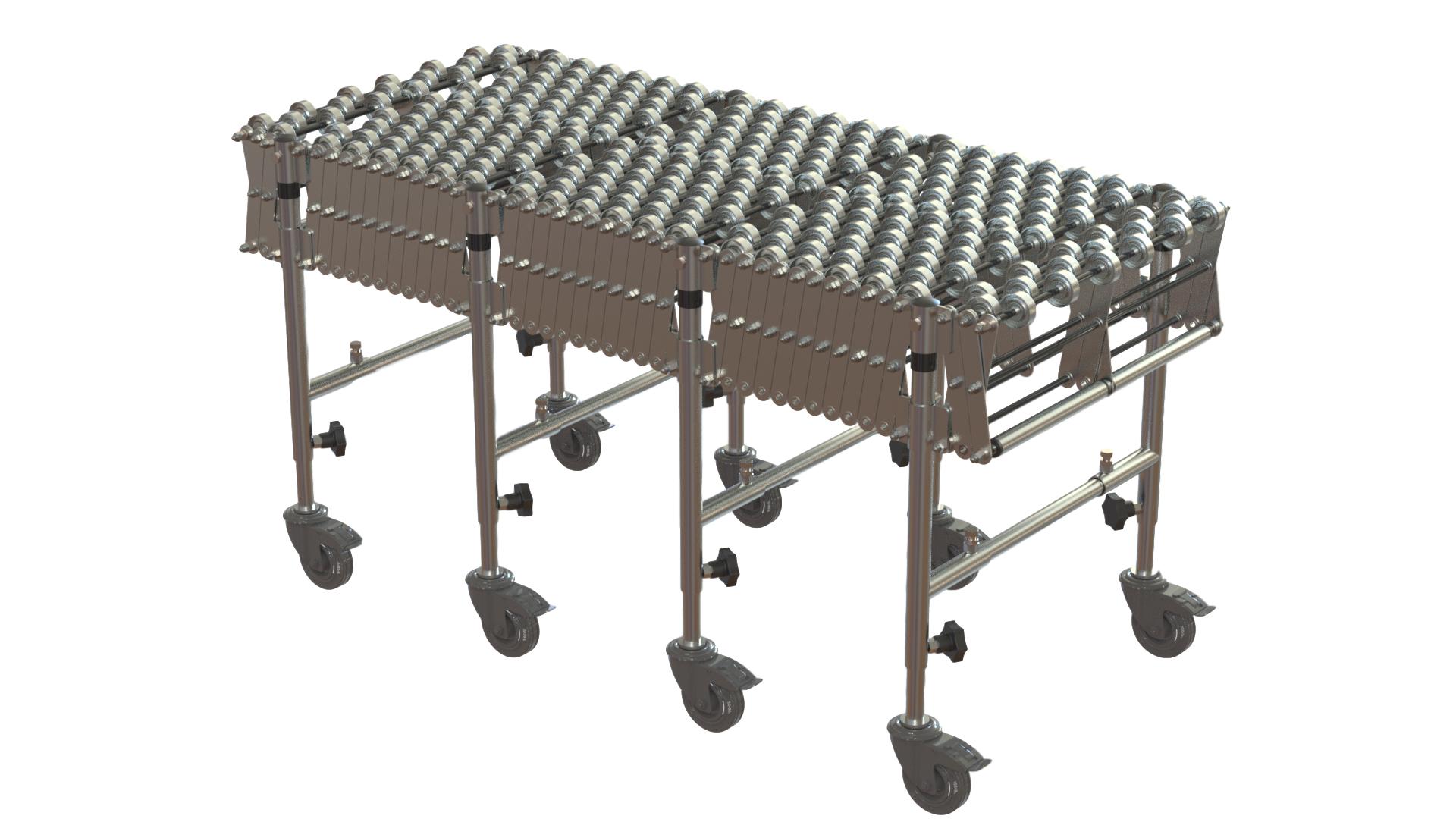 Flexible expanding conveyor with steel Skate-Wheel Rollers
Steel Straight Roller Flexible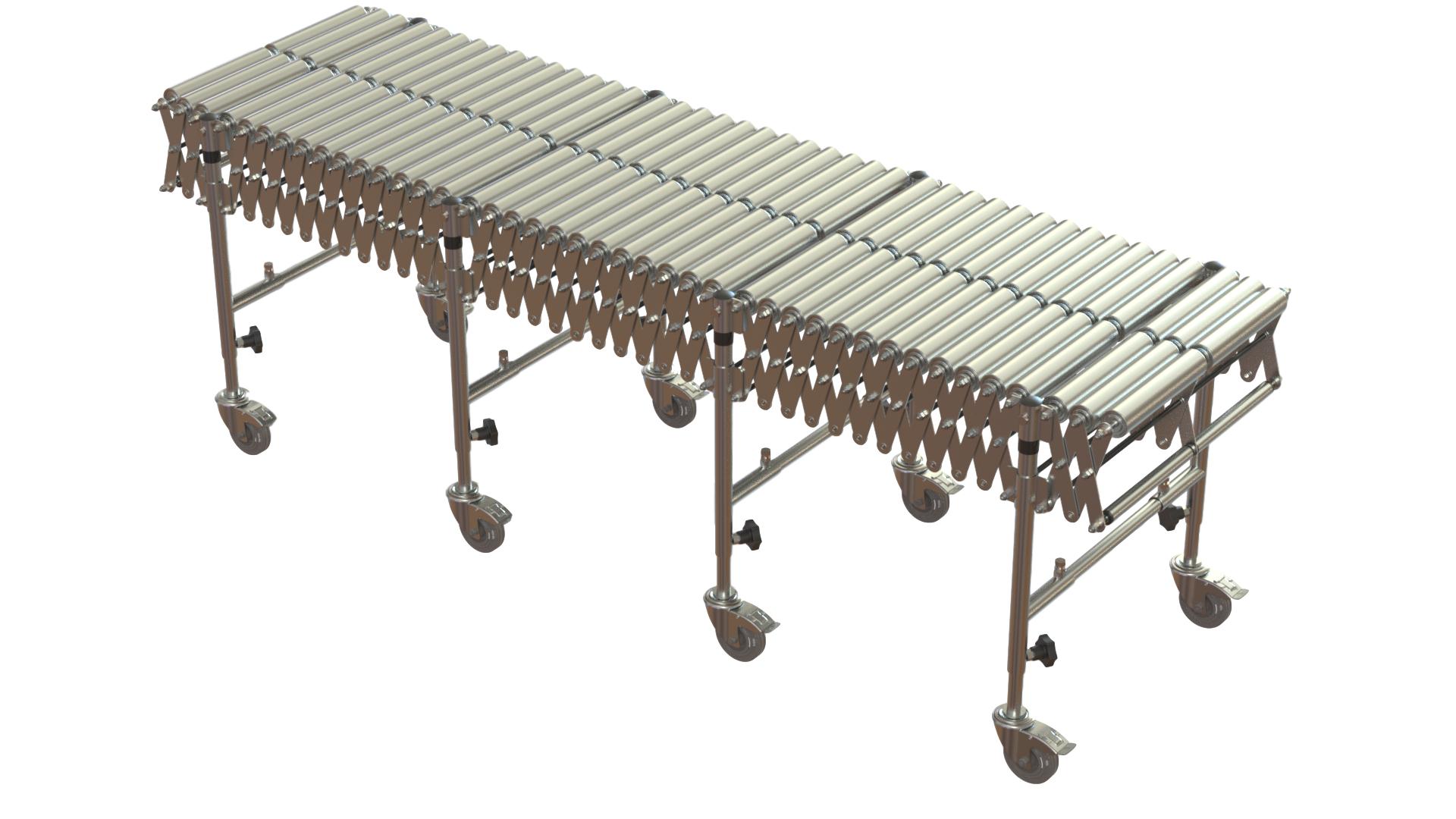 Mobile flexible conveyors with BZP steel rollers, for hi-duty conveying
What is a Flexible Conveyor
A flexible conveyor is a mobile gravity conveyor, which can be pulled in and out, curved around corners and obstacles providing limitless configurations.
Accordion conveyors are highly adaptable given the ability to effortlessly expand, contract, and vary in height in minutes.
Flexible conveyors can be used for a multitude of different scenarios. For example:
Warehouse Packing, Loading & Unloading Containers/Vehicles, End-of-Line Conveying, Accumulation, or temporary back-up conveyors.
Flexibles form a practical solution to many product transportation issues, enabling packed products to get from one place to another without the need for power.
Using the weight of the product, supporting stands can be adjusted to suit the correct gradient allowing a smooth fall under the product's gravitational force.
FLEXIBLE CONVEYOR SUPPLIERS
We are a conveyor manufacturing company, offering a comprehensive range of flexi conveyors to suit a number of applications.
Our products are robust, high in quality, and built to last. We always maintaining British manufacturing techniques at all times, ensuring a satisfactory product.
The flexible roller conveyor offers our customers a practical and reliable conveying solution, which is built to last.
Flexibles can also be integrated into our full range of newly manufactured belt and roller conveyors.
Expandable Conveyor Range
Skate Wheel Flexible Conveyors
Skate wheel models are available with either free-running PVC or bright zinc plated skate wheels. Suitable for conveying loads with good semi-rigid flat bases. The nature of skate wheel rollers, allows loads to track well throughout the length of skate wheel conveyors, in addition to providing a low point of inertia and quick rotation speed.
Skate wheel conveyors can form tight turns and close up to less than one-third of their open length.
Straight Roller Flexible Conveyors
Straight roller models are available with either free-running PVC or bright zinc plated rollers. Roller models are suitable for conveying a wider range of loads in addition to closing up to less than one half of their open length.
Heavy-duty Flexible Conveyors
Heavy-duty flexible conveyors are available in a similar design. Heavy-duty versions incorporate diagonal knee braces in addition to 9 or 12 axles between stands for reduced section lengths and increased strength.
Castor wheels are also upgraded from 100mm diameter up to 125mm diameter.
e and tail rollers, welding and fabrications are carried out at our Telford facility, so we can closely monitor the manufacturing of your belt conveyor from start to finish.