KCT 3 Steel Roller Conveyors
Medium Duty Roller Conveyors 80kgs or 120 kgs Roller Capacity. 50mm Ø Steel Conveyor Rollers.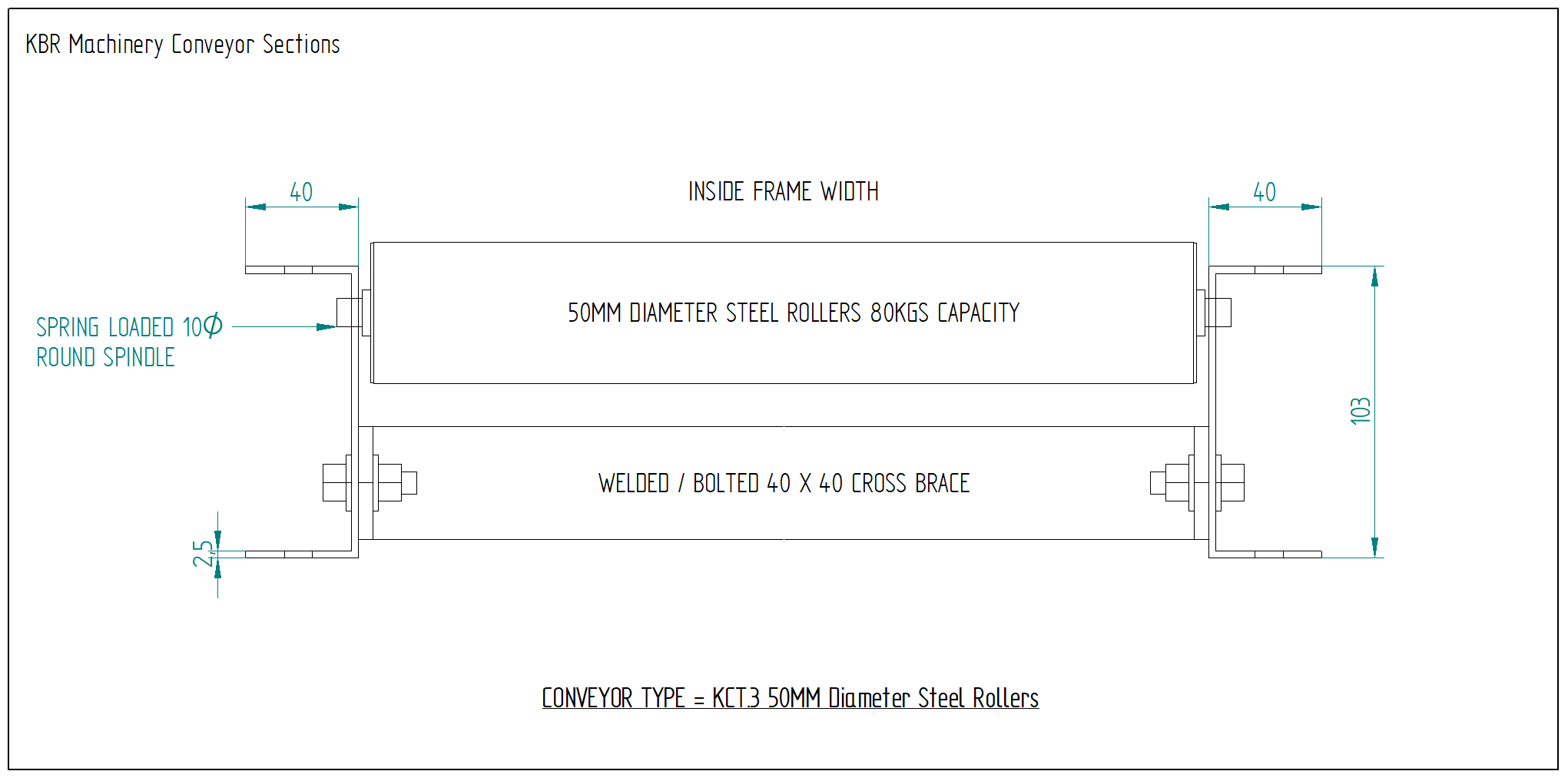 Conveyor Overview
KCT 3 steel roller conveyors offer a low point of inertia and medium rotation speed. Medium duty steel roller conveyor, over the high weight capacity, and tough durability. The KCT 3 steel roller tracks are the perfect medium-duty gravity roller conveyor system.
Ideal for medium gravity roller conveyor systems, steel cutting lines, long spans, warehouse logistics, and end of line accumulation. Where medium-weight conveyor rollers are required. Minimum product size 180mm and above.
Conveyor Frames
KCT 3  steel roller tracks are manufactured using cold rolled mild steel side frames. In addition to the steel conveyor rollers offered within the KCT 3 range, a lighter duty version is available with plastic conveyor rollers.
Offering a 103mm side section, the KCT3 steel roller conveyor is a durable conveyor section meeting the high standards of all KBR Machinery's manufactured roller conveyors.  The KCT 3 steel roller conveyor thereby remains a robust, solid, and reliable roller conveyor system.
The KCT 3 conveyor frames can be supplied in one of 3 standard colours, RAL5002 Ultramarine Blue, RAL 9010 Pure White, RAL 9005 Jet Black . In addition to the standard colour range, custom powder coated colours are available, together with 304 stainless conveyor frames that can be manufactured for clean conveyor applications.
Conveyor Rollers
KCT 3 gravity conveyors incorporate spring-loaded steel roller spindles, thus speeding up conveyor maintenance and cleaning of equipment. The KCT 3 metal roller conveyors are available with two roller capacities (80 kgs + 120 kgs). High duty bearings provide the results of heavy-duty conveyor rollers while allowing lightweight packages to travel along the conveyor rollers in addition to larger and heavier products.
Galvanized steel conveyor rollers are hydraulically pressed with heavy-duty conveyor bearing housings, which contain steel ball races. As a result, the pressed roller conveyor bearings together with quality steel tubes, in particular, provide excellent durability and wear within tough, challenging and ever-changing work environments.