KCT 3 - GRAVITY ROLLER CONVEYORS
Medium Duty Roller Conveyors 25kgs Roller Capacity. 50mm Ø PVC Conveyor Rollers.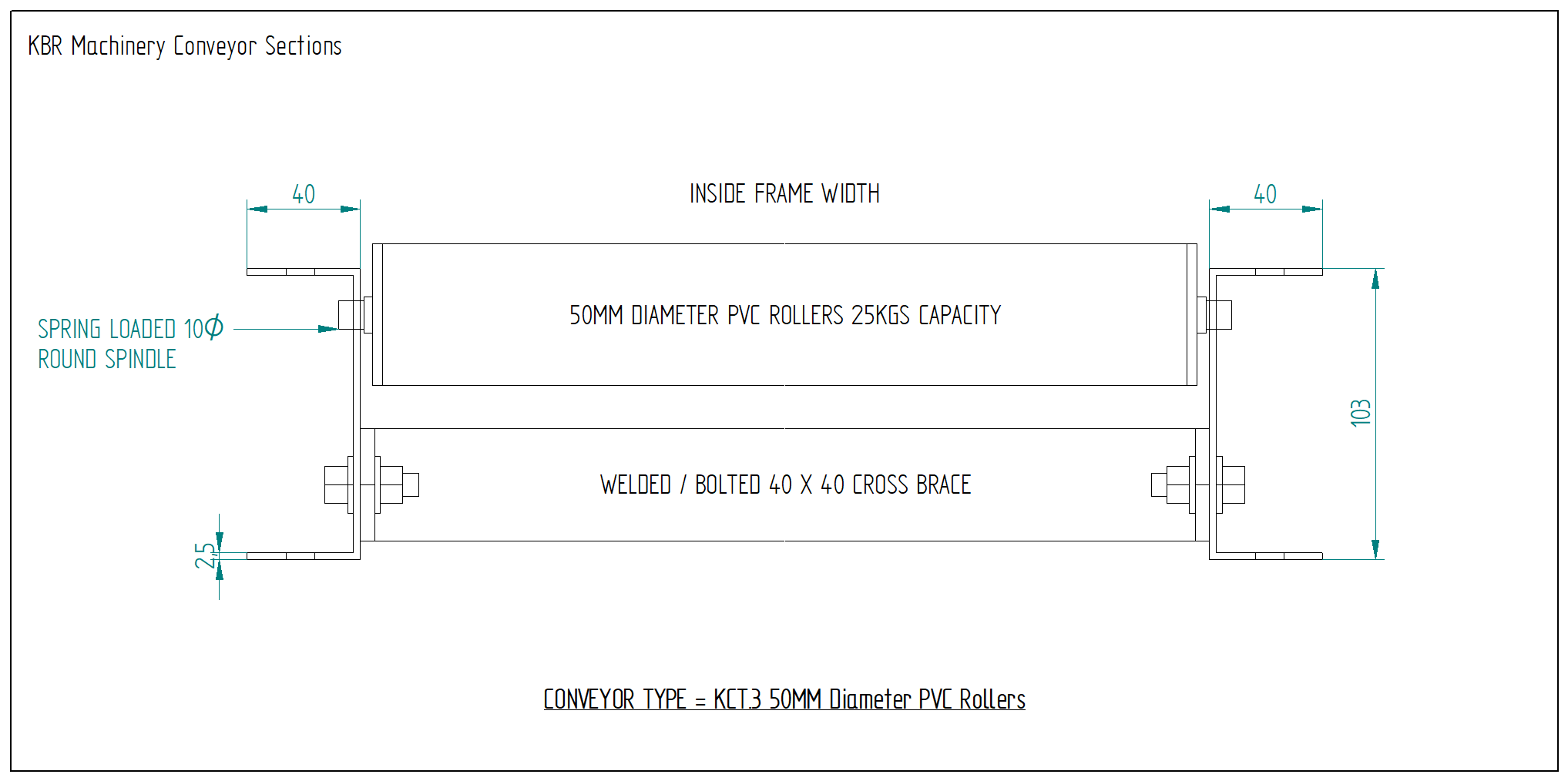 CONVEYOR OVERVIEW
KCT 3 plastic roller conveyors offer a low point of inertia and quick rotation speed. Medium duty plastic rollers together with optional bearing types, roller centers, and spindles, subsequently mean KCT 3 plastic roller tracks are the perfect medium duty roller conveyor system.
Ideal for medium roller conveyor systems, track saws, outdoors, long spans and/or end of line accumulation. Where medium-duty rollers and conveyors are required. Minimum product size 180mm and above.
CONVEYOR ROLLERS
KCT 3 roller conveyors incorporate spring-loaded steel conveyor rollers, thus speeding up conveyor maintenance and cleaning of equipment. KCT 3 high impact plastic conveyor roller offers similar load capacities of steel conveyor rollers, therefore, remaining a durable, robust and cost-effective working roller conveyor.
Supplied with high impact non-marking PVC conveyor rollers in addition to hard-wearing plastic conveyor bearings with steel ball race.
Two load ratings are available (25 KGS, 80 KGS), as a result of the conveyor roller bearings and steel conveyor rollers, in particular, provide excellent durability and wear within challenging working environments.
A stainless steel spindle can be supplied, along with sealed bearings incorporating stainless steel ball races. This provides excellent protection against the ingress of water and chemical resistance.
CONVEYOR FRAMES
The KCT 3 plastic roller conveyor is manufactured using mild steel conveyor frames. In addition to the plastic roller conveyor offered within the KCT 3 range, a heavier duty gravity roller conveyor is available with steel conveyor rollers.
The popular KCT 3 roller conveyor is a medium-duty roller track, meeting the high standards of all KBR Machinery's manufactured gravity roller conveyors.  The KCT 3 plastic roller conveyor has been proven in a wide range of applications, chosen for its robust, solid and reliable build quality.
The KCT 3 roller conveyor frame can be supplied in one of 3 standard colours, RAL5002 Ultramarine Blue, RAL 9010 Pure White, RAL 9005 Jet Black. In addition to the standard colour range, custom powder coated colours are available. The range includes stainless 304 conveyor frames manufactured for use within clean and sterile conveyor applications.