KCB 40 SMALL BELT CONVEYORS & MINIATURE BELT CONVEYOR SYSTEMS
KCB 40 MINI BELT CONVEYORS - 40MM DIAMETER OR KNIFE EDGE CONVEYOR ROLLERS
Conveyor Specification
Conveyor Lengths = 500mm - 10,000mm.
Belt Width = 36mm - 614mm.
Inside Frame = + 5mm.
Total Width = + 80mm.
Frame Depth = 60mm.
Side Frame = Cold rolled grade 4 mild steel 2.5mm.
Bed Type = Steel slider, 4 sides folded and seam welded for additional strength.
Conveyor beds = Semi suspended; complete with stainless steel spacing collars.
Frame Ties = 20 x 20 round mild steel complete drilled and tapped - Modular bolted fitment.
Standard Belt Options = Twin 6 x 4 Tracking Guides Fitted to Belt underside virtually eliminating belt tracking issues and downtime.
Under Rollers = P2 Galvanised 30 x 1.5mm ERW tubes fitted with precision bearings.
Drive Motor = Dual voltage, side mounted motor gearbox or central drive, steel geared with 40mm diameter pulleys.
Tension = M6 x 90mm threads, allowing up to 180mm total belt tension.
Conveyor End Plates = Machined black PTFE or Aluminium
Weight Capacity = 5kgs per meter standard
Conveyor Speed = Standard 20 Meters per minute maximum speed (alternative speeds are available).
TRACKING GUIDES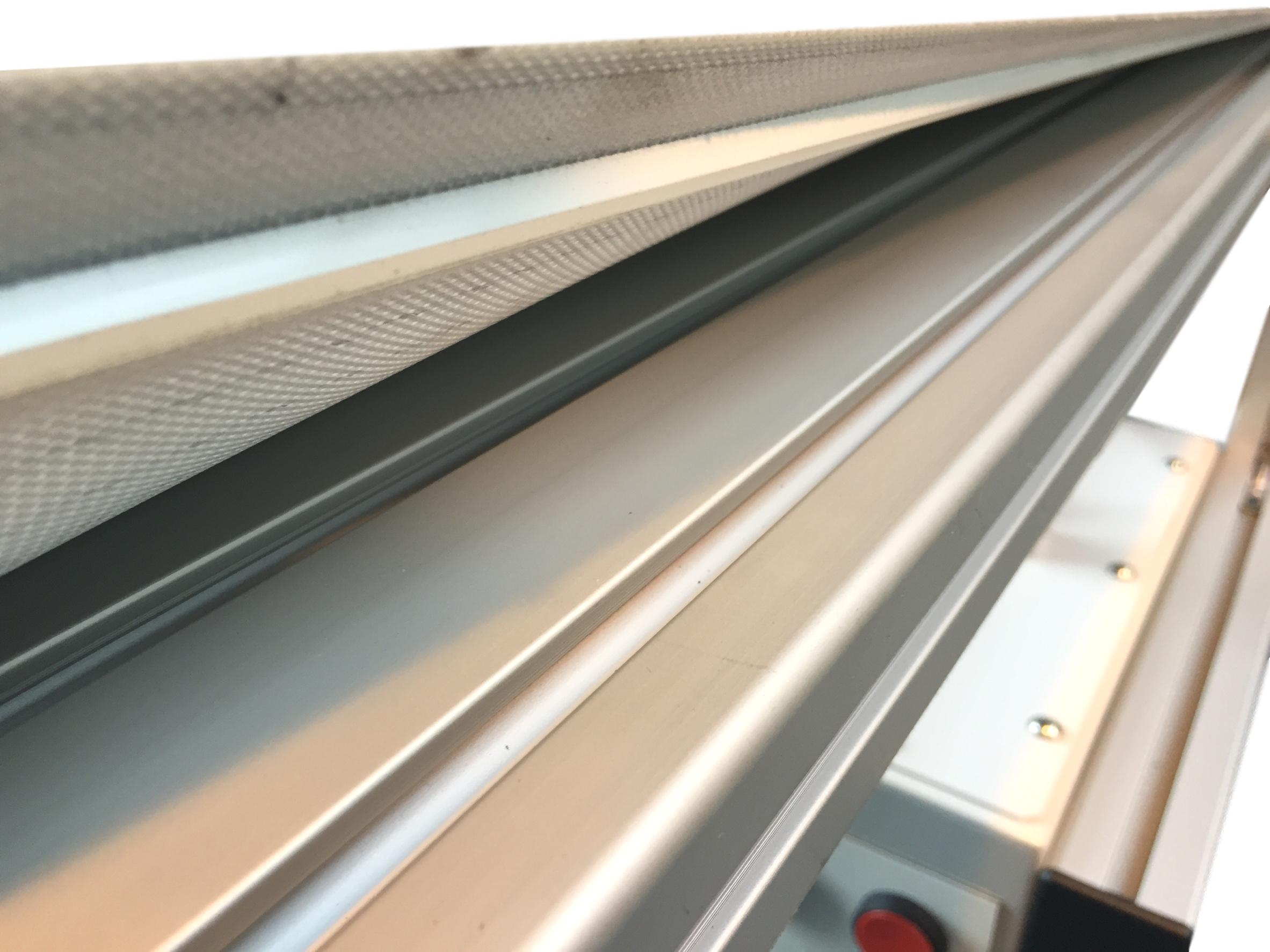 Belt Guidance
Conveyors are manufactured with four side folded semi-suspended pans or single profile aluminium. This allows fitting of 6 x 4 guides to the underside of the belt, either centrally or both sides. Tracking guides virtually eliminate the requirement for belt tracking, which can cause equipment downtime and loss of production.
DRIVE & TAIL PULLEYS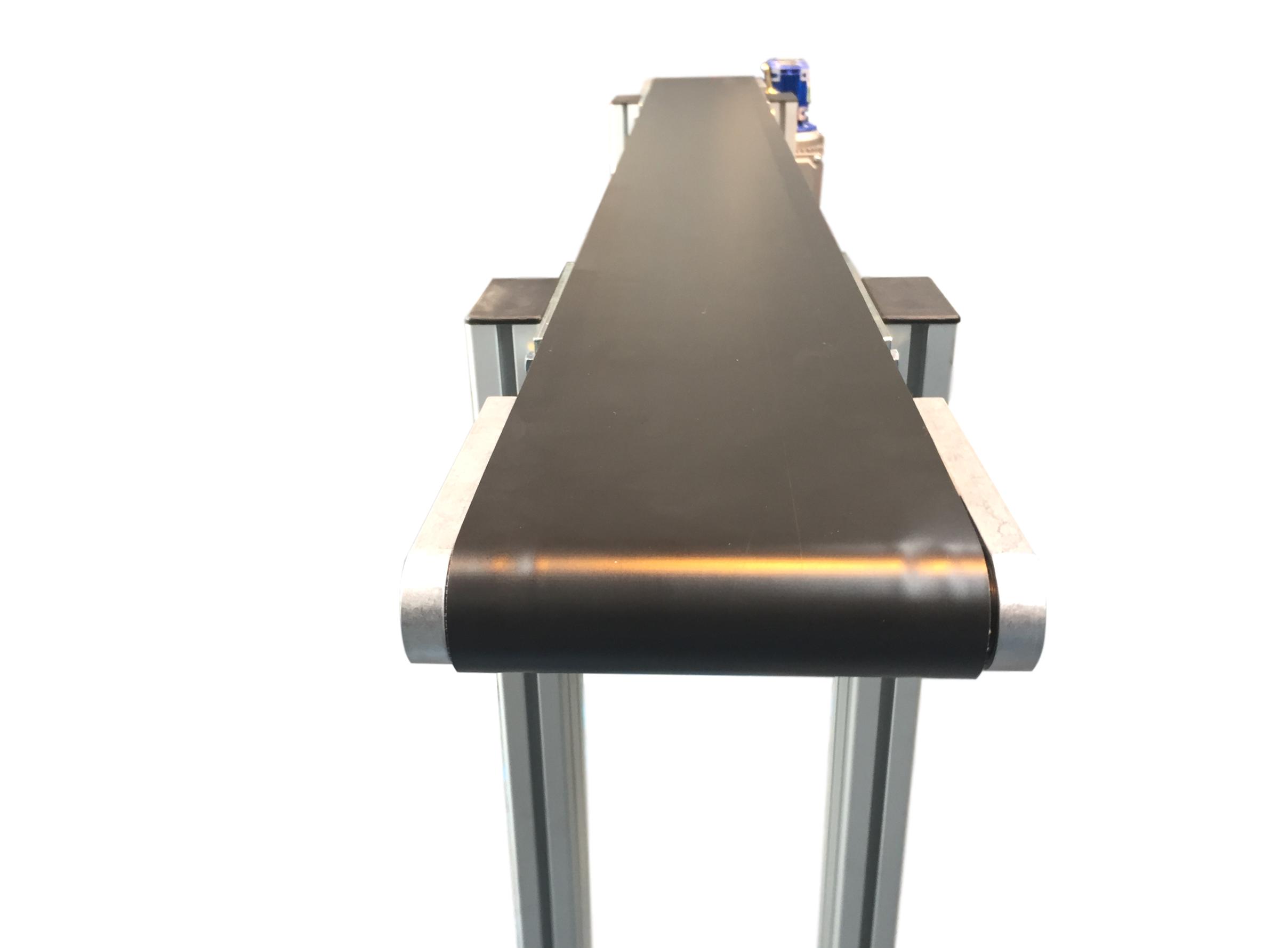 Roller Pulleys
Conveyors are manufactured with either 40mm diameter steel drive and tail pulleys or can be supplied with a knife edge. Utilising small conveyor rollers allows product transfers with short products increasing versatility.
Drive Units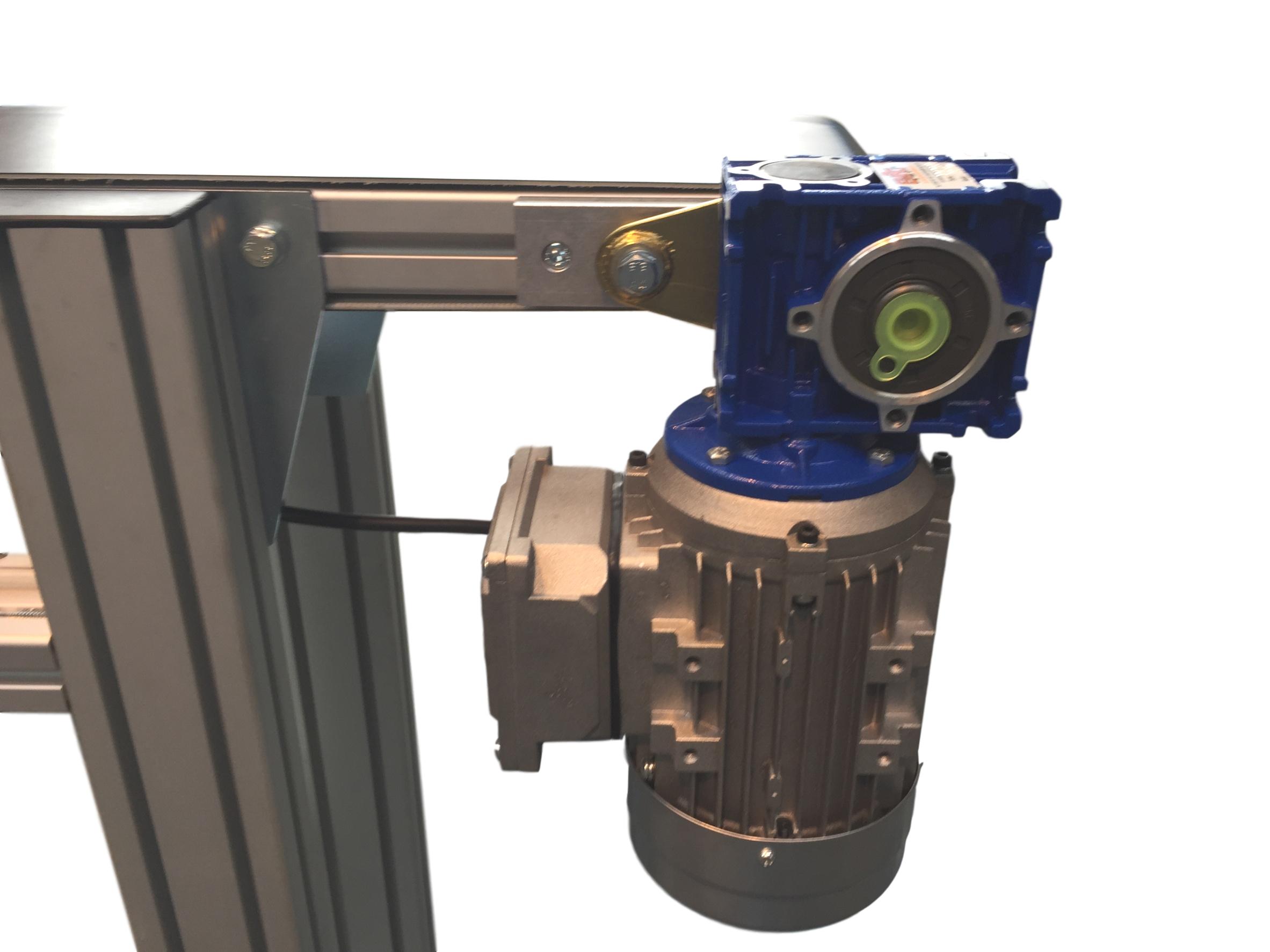 Conveyor Drive Motors
As standard conveyors will be supplied with side mounted motor gearboxes. The side mounted drive is located to the conveyor end in the direction of travel. Centrally located drive units are also available, in addition to drives being mounted to the left-hand or right-hand side of the conveyor.
Belt Tension Unit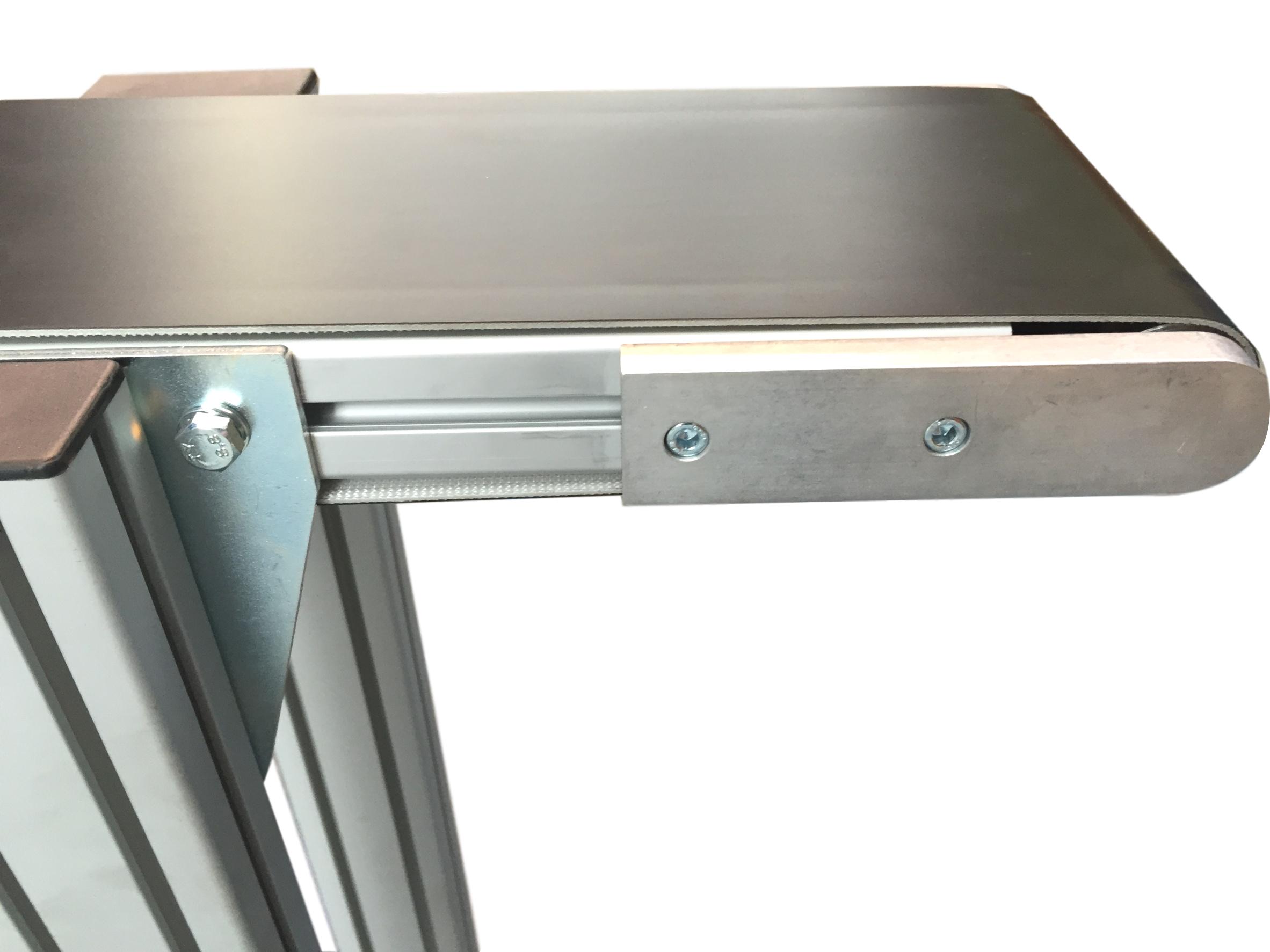 Belt Tensioning
Our standard tension units allow simple and effective belt tensioning and tracking. for conveyor below 1000mm, end tension units require minimal adjustment, to save space no fine adjustment is required. On conveyors over 1000mm, a screw thread tensioning units will be supplied.
CONVEYOR CONTROLS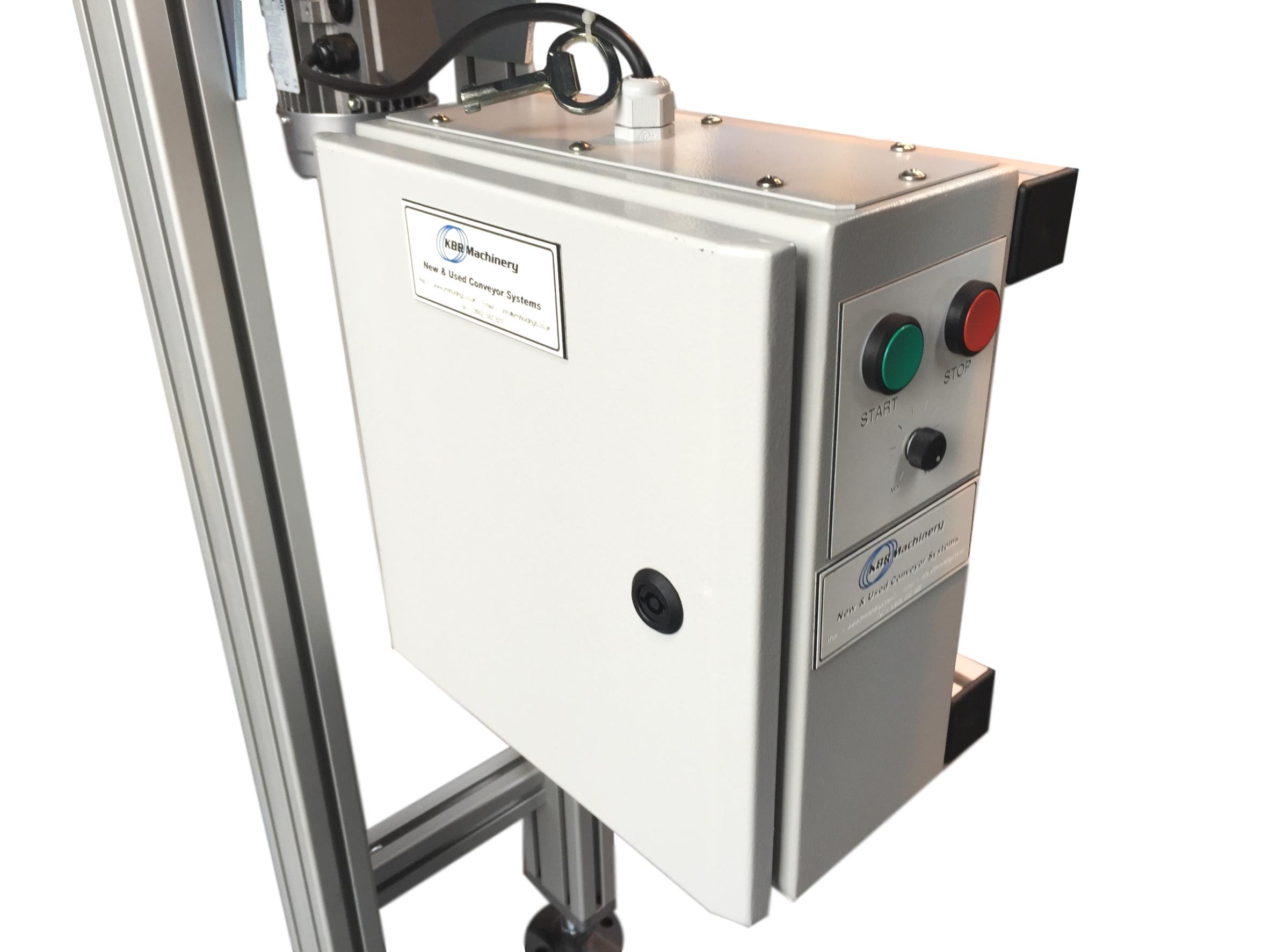 Control Units
Conveyor controls are provided within steel enclosure or a simple IP66 rated variable speed drive. Functions include stop/start, e-stop push buttons, Isolators, photocell sensors, delay timers and potentiometer for variable speed. Control supply typically 240v input.
SUPPORT STANDS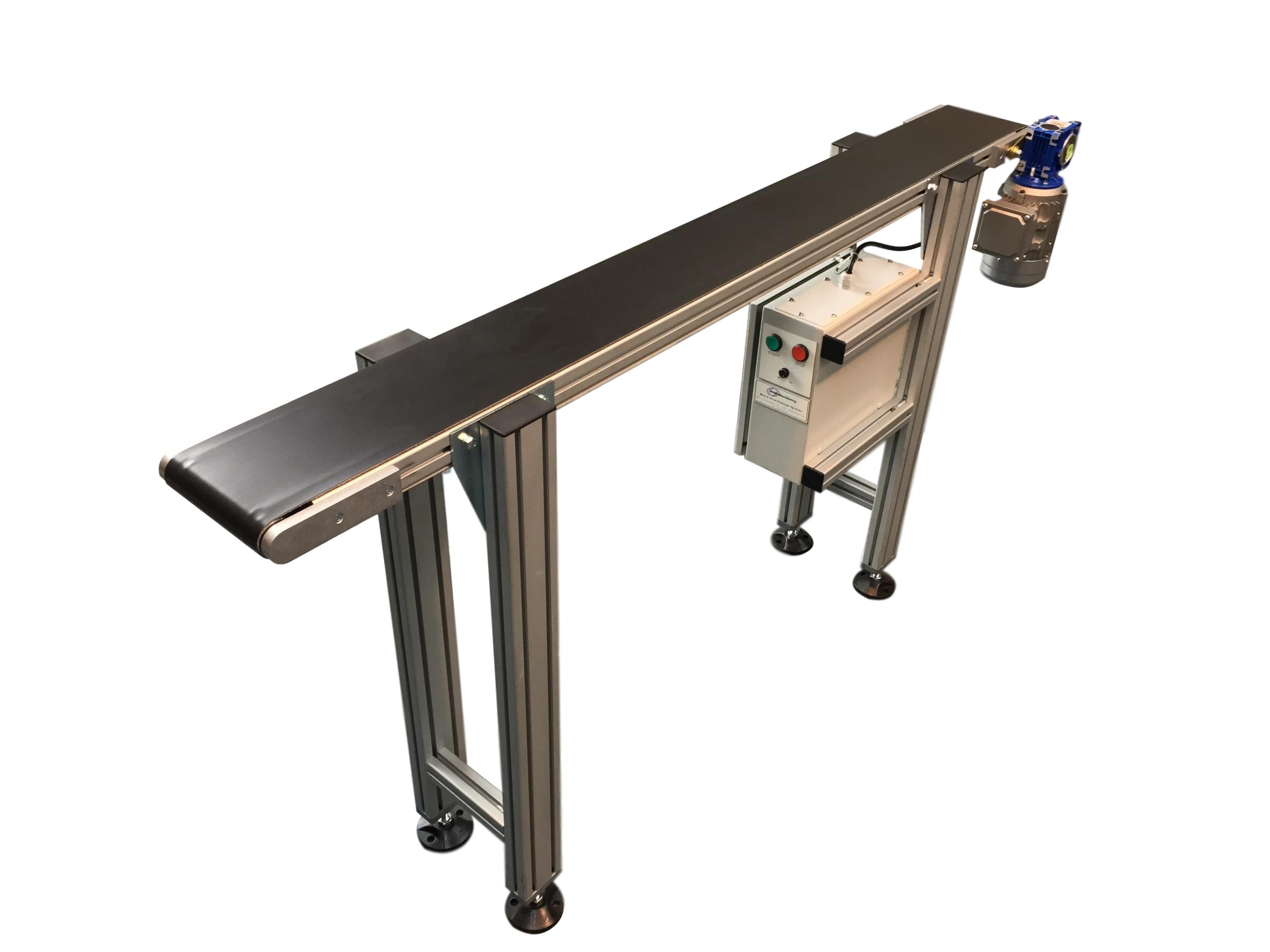 Conveyor Stands
Conveyors are manufactured in either steel or aluminium profile. Support stands feature a top supporting plate and swivel base for fine adjustment. Stands are fixed to the outside or underside of each profile. Single supporting stands are also available on small conveyors.
LIGHT DUTY CONVEYORS - KCB 40 OVERVIEW
Conveyor Frames
The KCB 40 belt Conveyor is manufactured from high-quality cold rolled CR4 grade 2.5mm mild steel or extruded aluminium profile. Conveyor side sections are CNC cut and folded to form a strong durable side section. Both steel frame and aluminium frame conveyors use our single or twin belt tracking guidance system.
Offering a 40mm or 60mm deep side section, the KCB 40 light-duty belt conveyor is a durable conveyor section, meeting the high standards of all KBR Machinery's manufactured light-duty conveyor systems. The KCB 40 belt conveyor, therefore, remains an ever popular, solid, robust and ultra reliable flat belt conveyor.
The KCB 40 belt conveyors can be supplied in 3 standard colours, RAL5002 Ultramarine Blue, RAL 9010 Pure White, RAL 9005 Jet Black. Custom powder coated colours are available. Together with 304 stainless sections manufactured for food conveyor applications.
Conveyor Support
Conveyor Installation
Conveyors are Pre-built. Comprehensive instructions are provided for kit conveyors.
Some require minimal assembly, and some a little more than simple assembly. If you don't think you could manage, or simply want the assurance of a professional installation and demonstration, we can offer an Installation service for an extra cost.
To find out how much assembly is required on your conveyor, please contact us.
Read the conveyor manual before use. Incorrect wiring can cause drive damage, voiding the warranty.
Warranty
Conveyors come with a 12-month warranty against defective parts. This excludes accidental damage and misuse.
Wiring Diagrams and Instructions provided.
Preventative maintenance checklist provided.
CE marking and EU declaration supplied.