KCB 113 Belt Conveyors and Belt Conveyor Systems
KCB 113 Flat Belt Conveyors
113mm Ø Drive & Tail Rollers - Steel Geared Drum Motor Units
KCB 113 Belt Conveyors Overview - Medium duty flat belt conveyors.
Conveyor Lengths = 1000mm - 20000mm.
Minimum Conveyor Length = 800mm
Maximum Conveyor Length = 20m
Belt Width = 284mm - 1284mm.
Minimum Conveyor Width = 284mm
Maximum Conveyor Width = 1434mm
Inside Frame = + 10mm.
Total Width = + 80mm.
Frame Depth = 135mm.
Side Frame = Cold rolled grade 4 mild steel 2.5mm.
Bed Type = Steel slider, 4 sides folded and seam welded for additional strength.
Conveyor beds = Semi suspended; complete with stainless steel spacing collars.
Frame Ties = 20 x 20 x 2.0mm Mild steel complete with welded 5mm brace plates - Modular bolted fitment.
Standard Belt Options = Twin 10 x 6 Tracking Guides Fitted to Belt underside virtually eliminating belt tracking issues and downtime.
Under Rollers = P2 Galvanised 50 x 1.5mm ERW tubes fitted with precision bearings.
Drive Motor = Dual voltage, steel geared Internally driven 113mm diameter roller with 113 diameter pulleys.
Drive Options = Drum Motor OR Central Drive
Drive power from 0.035kw - 0.55kw / Loads up to 30KGS Per meter
Minimum Running Speed = 3 Meters Per Minute
Maximum Running Speed = 88.8 Meters Per Minute
Tension = M10 x 120mm threads, allowing up to 240mm total belt tension.
Conveyor End Plates = Fully welded tension plates, with 4 positions bolted fitment. Quick access cover plates allowing ease of maintenance.
Weight Capacity = 25kgs per meter standard / 50kgs per meter with specific drives.
Conveyor Speed = Standard 20 Meters per minute maximum speed (alternative speeds are available).
Tracking GUIDES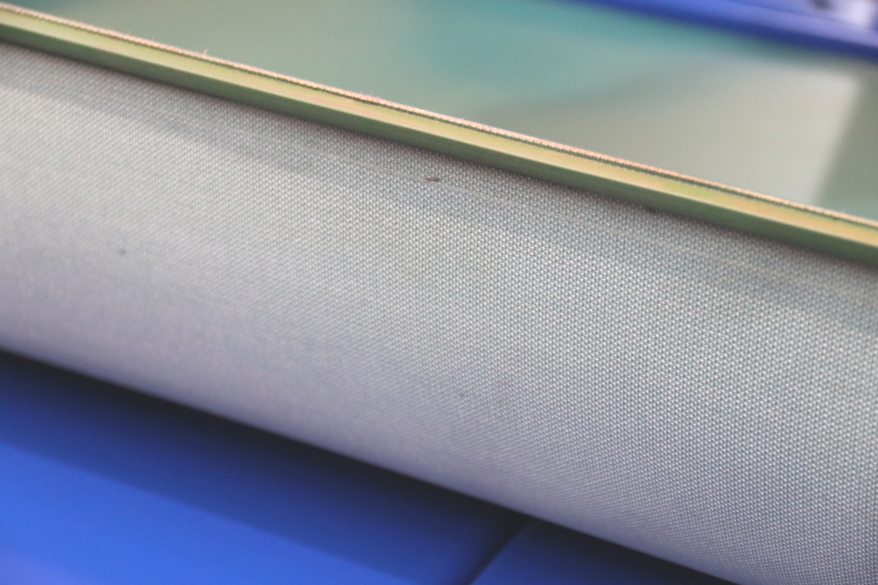 Belt Guidance
Conveyors are manufactured with four side folded semi-suspended pans. This allows fitting of 10 x 6 guides to the underside of the belt. Tracking guides virtually eliminate the requirement for belt tracking, which can cause equipment downtime and loss of production.
Endless Belting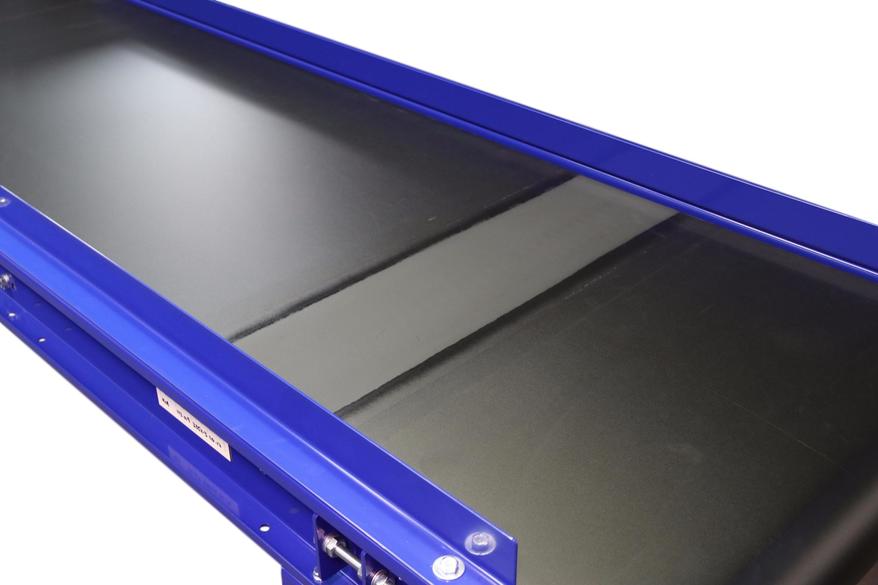 Conveyor Belting
Endless conveyor belting provides a seamless join between the PVC and fabric base, therefore increasing belt life.
Standard additional belt types included Grip Belts, PU Blue, White PVC and Oil Resistant PVC.
RETURN ROLLERS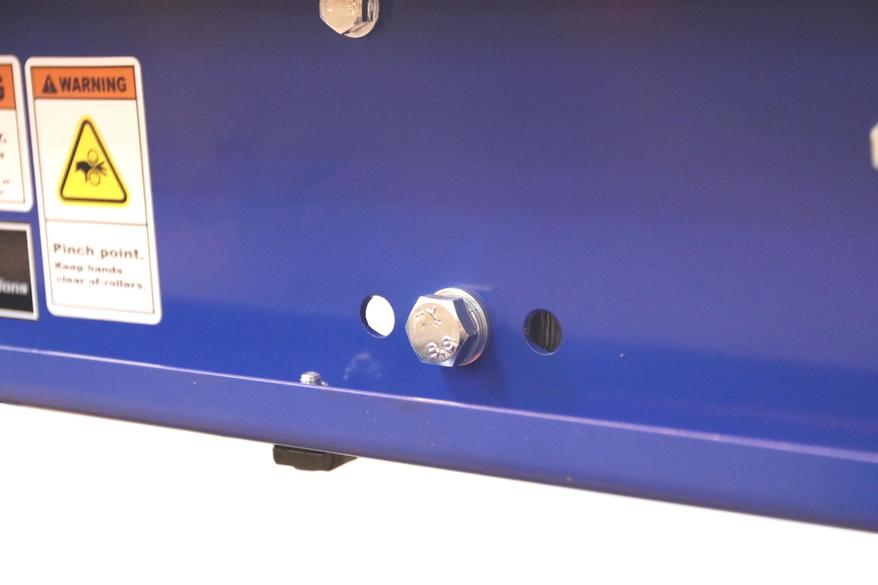 Return Rollers
Conveyors are fitted with return rollers, offering adequate drum wrap and tension, along with providing belting support.
P2 Galvanised 50 x 1.5mm ERW tubes fitted with precision bearings c/w machined female m10 threads.
End Plates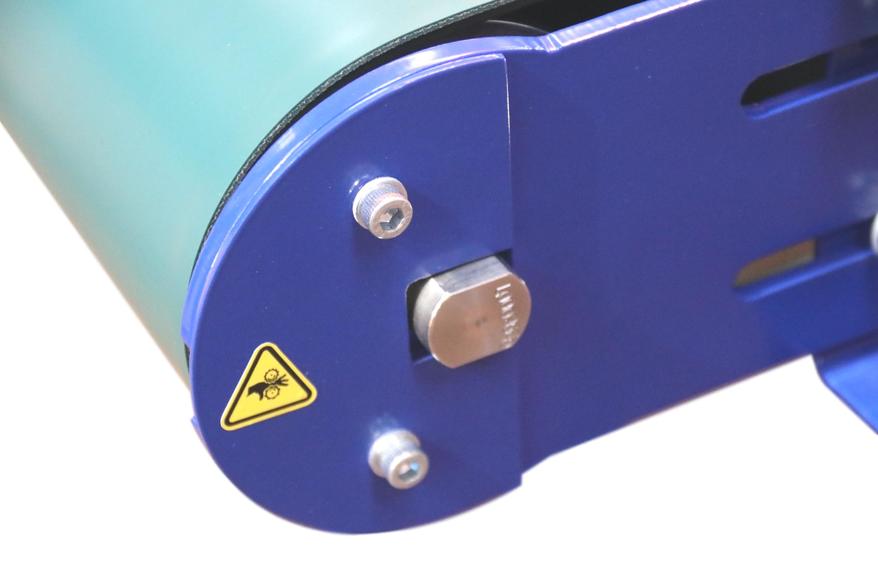 Roller End Plates
Conveyors are fitted with 5mm tension plates, incorporating a welded collar for increase roller support. For ease of maintenance, 2.5mm endplates can be removed to aid roller and belt replacement.
Joining Plates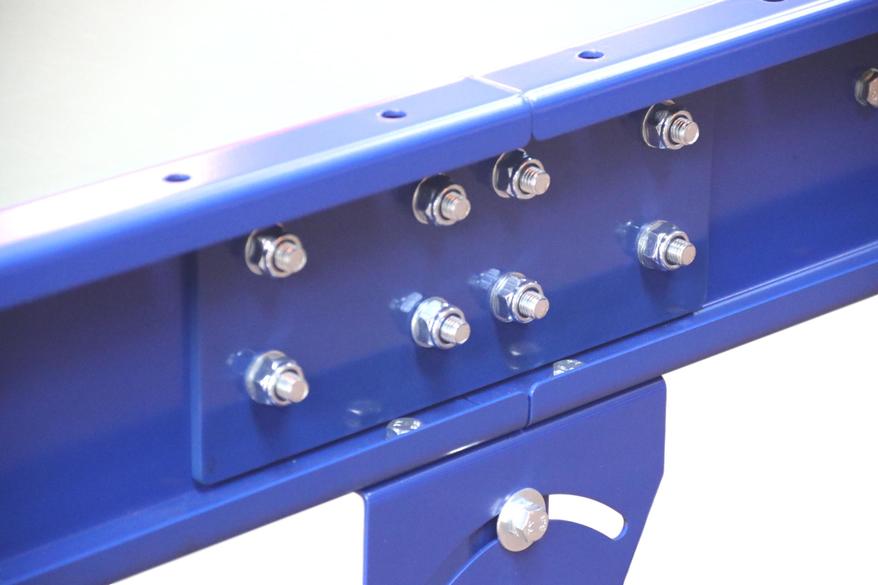 Frame Joining Plates
Belt conveyors in excess of 2.5m are assembled in multiple sections. Durable 5mm frame joining plates are used in addition to central support for added stability.
Belt Tension Unit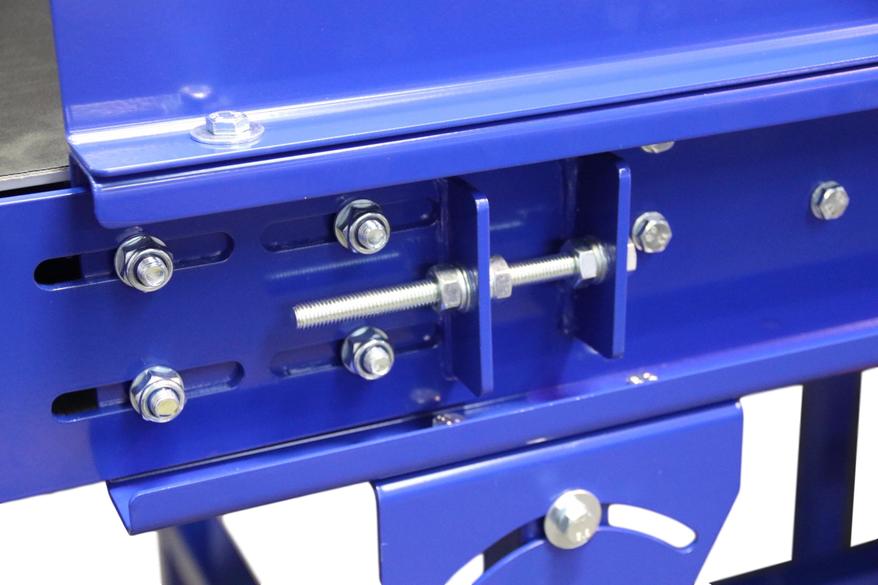 Belt Tensioning 
Our standard tension units allow simple effective belt tensioning and tracking.
M10 x 120mm Threads, allowing up to 240mm belt tensioning over the conveyor length.
Side Guards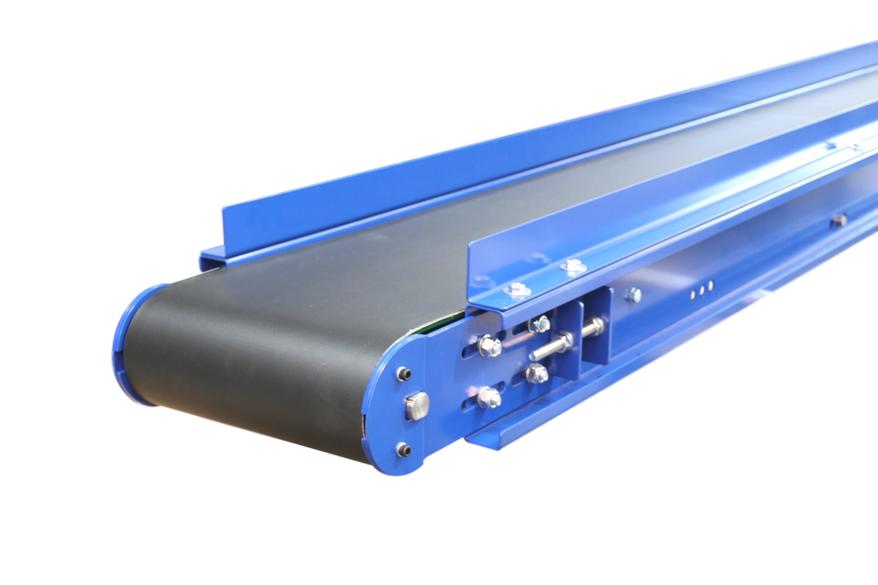 Standard Side Guards
We offer a standard 50mm H Fixed Side Guide to all our belt conveyors. A permanent safety rail manufactured with 2.5mm mild steel.
High Side Guards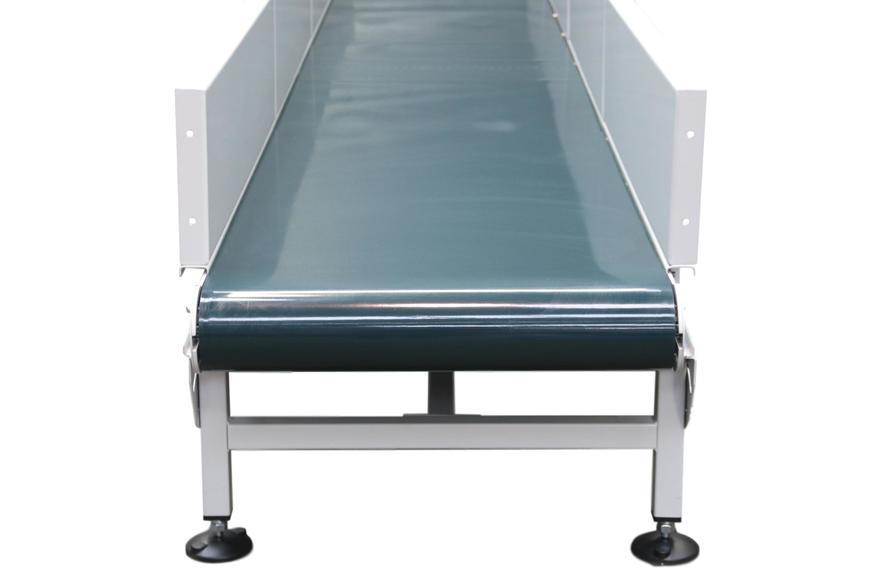 High Sided Guards
Additional options include 4 sides folded guards in the following increments: 100mm, 150mm, 200mm, 250mm, 300mm H side guards.
We can also offer rubber side skirting affixed to guards, in addition to inset over the conveyor belting edge.
Adjustable Guide Rails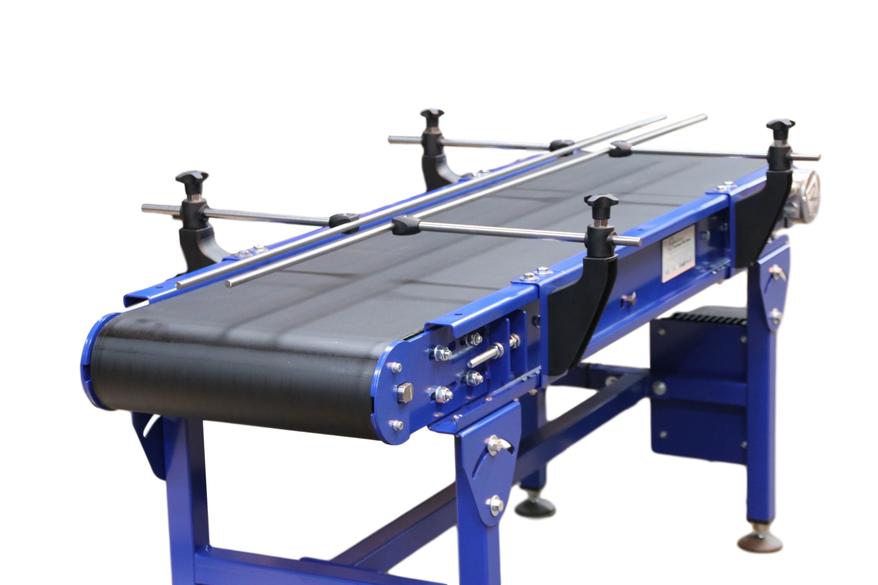 Guide Rail Kits
Pivoting rail bracket, offer movement at progressive angles.
For product positioning and bar coding and labelling machines.
Medium Duty Belt Conveyors - KCB 113 Overview
Conveyor Frames
The KCB 113 belt Conveyor is manufactured from high-quality cold rolled CR4 grade 2.5mm mild steel. Conveyor side sections are CNC cut and folded to form a strong durable side section, in addition to a 4 side semi-suspended support pan, allowing our twin belt tracking guidance system.
Offering a 135mm deep side section, the KCB 113 medium-duty belt conveyor is a durable conveyor section, meeting the high standards of all KBR Machinery's manufactured belt conveyor systems. The KCB 113 medium-duty belt conveyor, therefore, remains an ever popular, solid, robust and ultra reliable flat belt conveyor.
The KCB 113 belt conveyors can be supplied in 3 standard colours, RAL5002 Ultramarine Blue, RAL 9010 Pure White, RAL 9005 Jet Black. Custom powder coated colours are available. Together with 304 stainless sections manufactured for food conveyor applications.
Conveyor Drive Pulleys & Idler Rollers
The KCB 113 belt Conveyor incorporate Rulmeca 113mm diameter mild steel drive pulleys complete with hardened steel geared helical internal gearbox. Designed for arduous applications, including water, dust, grit, chemicals, grease, and oil.
In comparison to a typical motor gearbox system, the 113mm diameter drum motor offers reduced energy consumption in addition to increased power efficiency, whereby drive power can be transferred along the full width of the belting surface offering higher mechanical efficiency.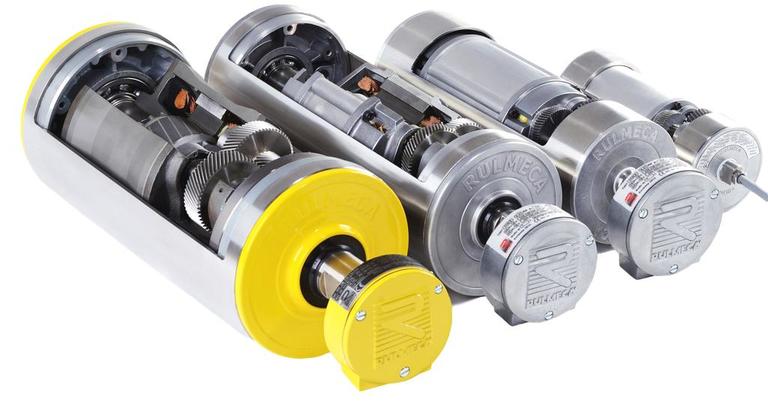 Conveyor Belting Options
KCB 113 belt conveyors come as standard supplied with smooth 2 Ply PVC Black or Green conveyor belting.
All belts incorporate our twin tracking guidance system, whereby the undersides of the external conveyor belting feature welded PVC notched or smooth guides.
Manufacturing conveyor belting in this way exceeds belt life, preventing the constant requirement to adjust and align conveyor belting. Furthermore tracking guidance systems, prevent costly downtime and unnecessary ongoing conveyor costs.
# 1 = 2 Ply Grip Green/Black
This is a textured belting profile, with a low friction fabric base, suitable for creating a positive drive on products, in addition to allowing inclined angles up to 20 degrees.
# 2 = 2 Ply White / Blue PVC
This is a smooth belt type, slightly tacky surface. Ideal for a clean line looks within food packaging and inspection type applications.
# 3 = PU White / Blue
Smoothly textured conveyor belt with a diamond base, preventing ingress of water and chemical saturation.
# 4 = 3 Ply Green Rigid PVC
Offered in two sizes, 3.6mm + 5mm, this rigid durable belt type offers fantastic durability within harsh working environments. High oil resistance and chemical resistance in addition to offering a rigid belting structure for additional belt fabrication including flights, side walls, and chevron patterns.
# 5 = Nova Felt
Offered in two sizes 4 + 6mm, this belt type has a fabric texture, offering a non-marking belt with high tear resistance. Typical industries included sheet metal sector.
# 6 = Custom Belt Fabrication
Straight or segmented flight 15 - 50mm fitting. Convoluted border-flex side walls from  40mm & 50mm H are also available.
Vulcanized belting supplied as standard. Kit conveyors also feature vulcanized belts. Vulcanized conveyor belting offers a seamless join between the belting surface prolonging belt life.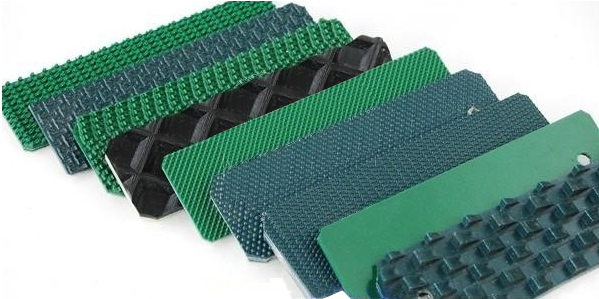 Control Options
Variable speed control features include stop/start buttons, drive isolation, speed control dial and digital display feature. Emergency stops to suit the conveyor application.
Emergency stop chords are also available. When further emergency systems are required, please contact us with the specification required.
Direct Online Starter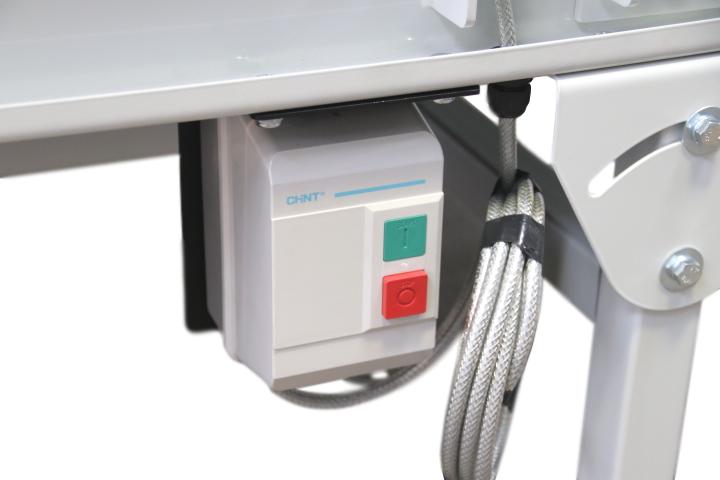 E-sTOP Trip Function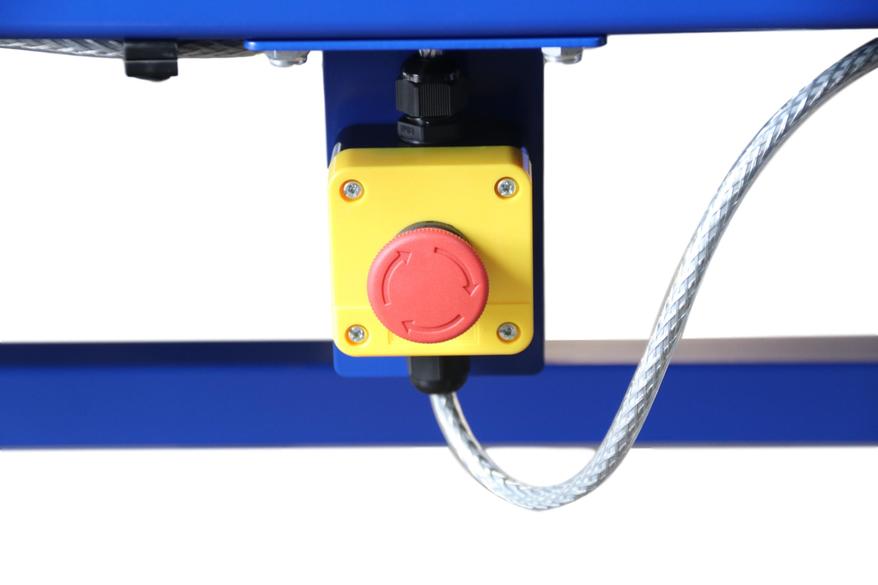 Variable Speed Control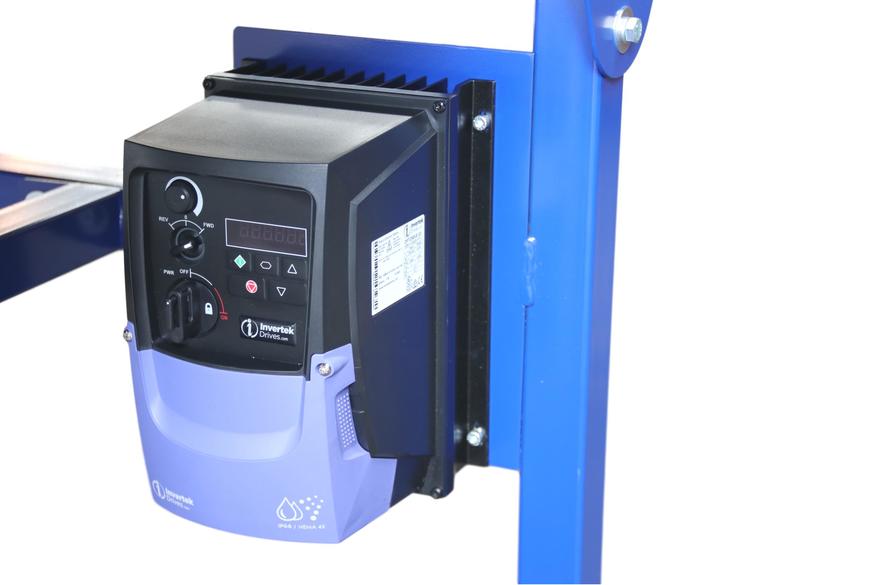 Advanced Control Systems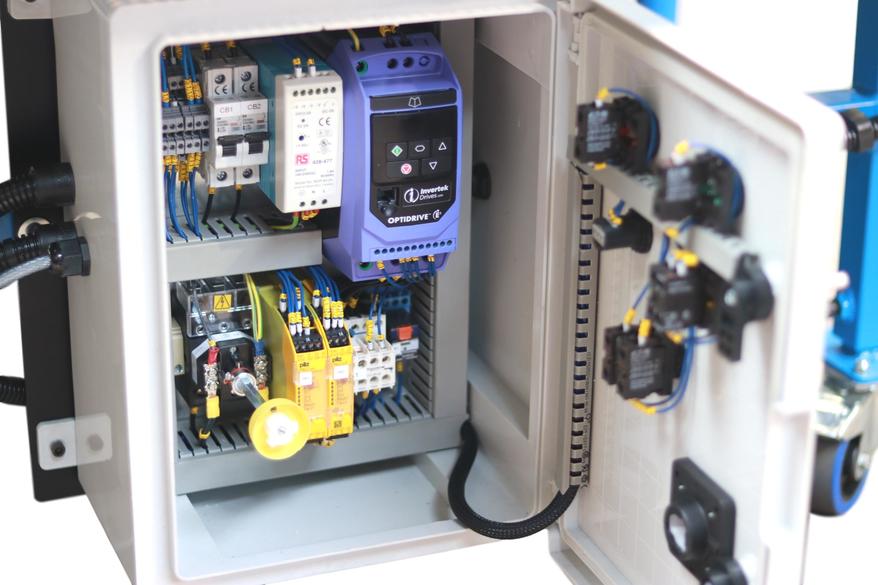 Advanced controls built to suit the application. This includes PEC Sensors, Timing Switches, Emergency stop pull chords, Panel Sirens, Lights, finger guards.
Belt conveyors can also run from a central panel incorporating conveyors into systems of conveyors with multifunctional uses.
Conveyor Support
Conveyor Installation
Conveyors are Pre-built. Comprehensive instructions are provided for kit conveyors.
Some require minimal assembly, and some a little more than simple assembly. If you don't think you could manage, or simply want the assurance of a professional installation and demonstration, we can offer an Installation service for an extra cost.
To find out how much assembly is required on your conveyor, please contact us.
Read the conveyor manual before use. Incorrect wiring can cause drive damage, voiding the warranty.
Warranty
Conveyors come with a 12-month warranty against defective parts. This excludes accidental damage and misuse.
Wiring Diagrams and Instructions provided.
Preventative maintenance checklist provided.
CE marking and EU declaration supplied.