KCB 80 LIGHT DUTY CONVEYORS & BELT CONVEYOR SYSTEMS
KCB 80 LIGHT - MEDIUM DUTY BELT CONVEYORS - 80MM + 89.5MM
 CONVEYOR ROLLERS
KCB 80 Belt Conveyors Overview - Light - Medium duty flat belt conveyors.
Conveyor Lengths = 1000mm - 20000mm.
Minimum Conveyor Length = 800mm
Maximum Conveyor Length = 10m
Belt Width = 116mm - 1016mm.
Minimum Conveyor Width = 216mm
Maximum Conveyor Width = 1016mm
Inside Frame = + 10mm.
Total Width = + 80mm.
Frame Depth = 101mm.
Side Frame = Cold rolled grade 4 mild steel 2.5mm.
Bed Type = Steel slider, 4 sides folded and seam welded for additional strength.
Conveyor beds = Semi suspended; complete with stainless steel spacing collars.
Frame Ties = 20 x 20 x 2.0mm Mild steel complete with welded 5mm brace plates - Modular bolted fitment.
Standard Belt Options = Twin 4 x 6 Tracking Guides Fitted to Belt underside virtually eliminating belt tracking issues and downtime.
Under Rollers = P2 Galvanised 30 x 1.5mm ERW tubes fitted with precision bearings.
Drive Motor = Dual voltage, steel geared Internally driven 81.5mm diameter roller with 81.5mm diameter pulleys.
Drive Options = Drum Motor, Side-Mounted Motor, Central Drive
Drive power from 0.035kw - 0.16kw / Loads up to 10KGS Per meter
Minimum Running Speed = 6.6 Meters Per Minute
Maximum Running Speed = 60 Meters Per Minute
Tension = M8 x 95mm threads, allowing up to 190mm total belt tension.
Conveyor End Plates = Fully welded tension plates, with 2 positions bolted fitment. Quick access cover plates allowing ease of maintenance.
Weight Capacity = 10kgs per meter standard / 20kgs per meter with specific drives.
Conveyor Speed = Standard 60 Meters per minute maximum speed (alternative speeds are available).
81.5 Ø DRUM MOTOR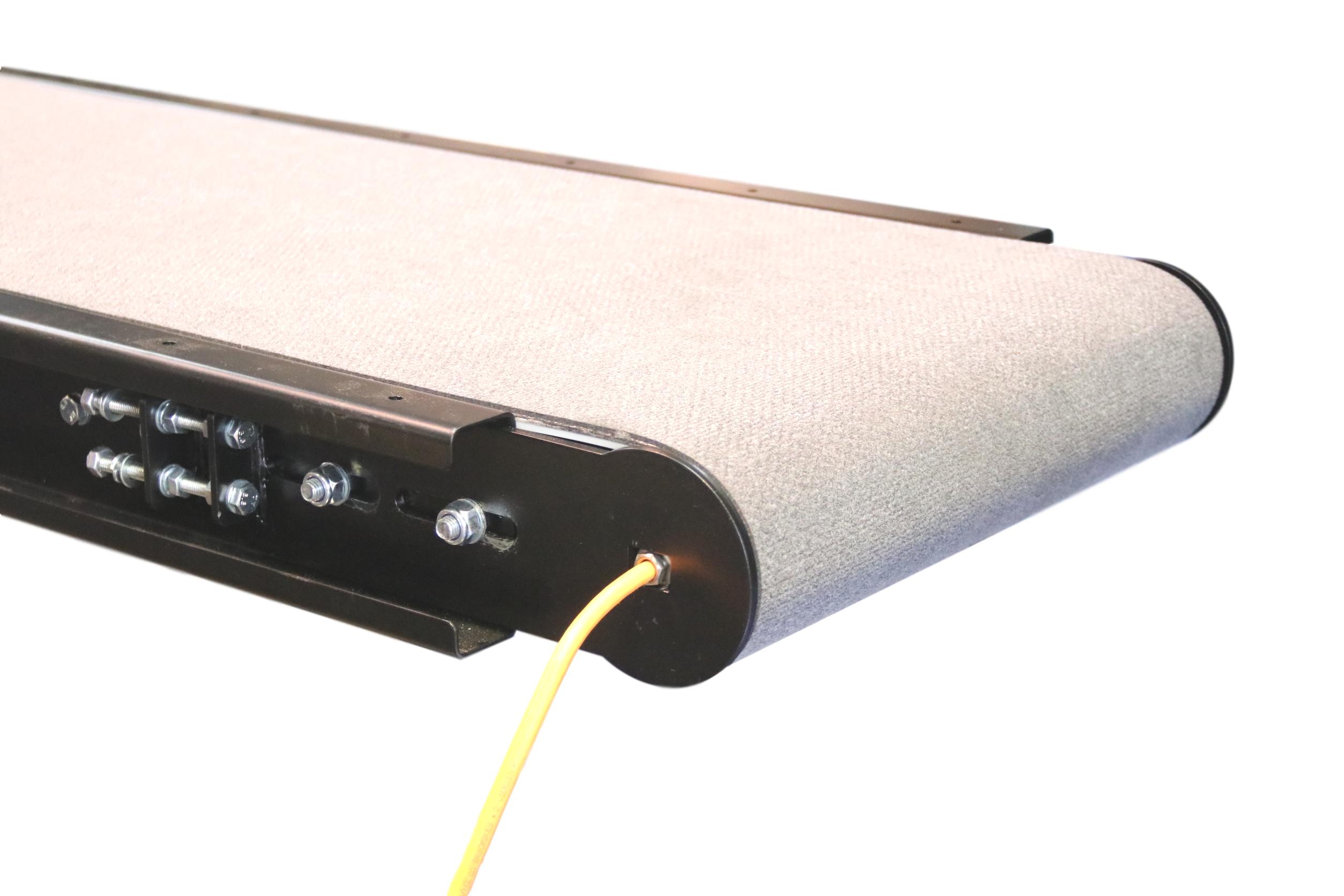 Drum Option
High quality steel geared drum motors from 216mm up to 1016mm Belt width. Low noise, highly efficient.  able to operate within temperatures -5° up to +40°. Operating speeds between 3 - 60 meters per minute. Drum motor options provide a smooth, clean, compact conveyor finish.
TRACKING GUIDES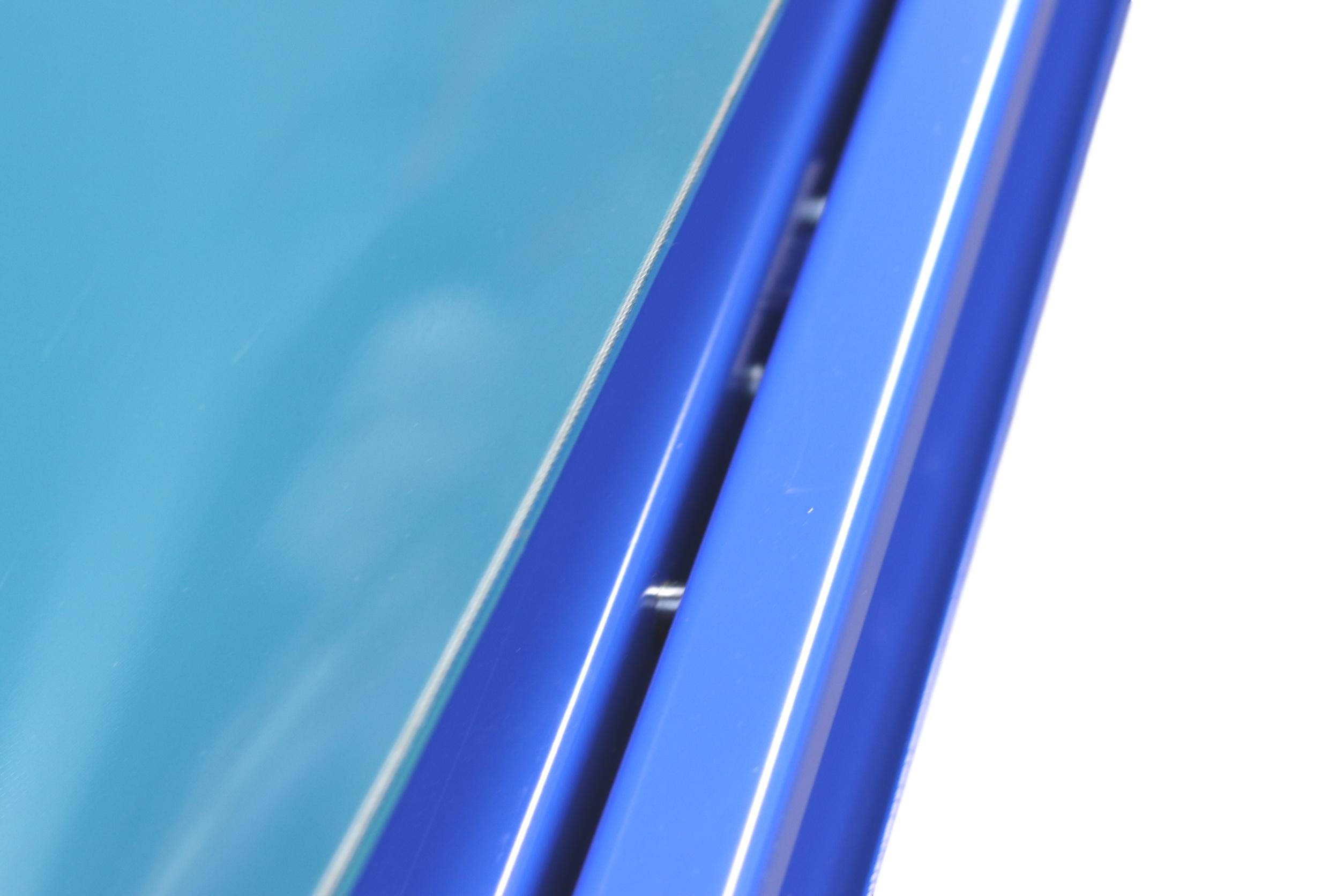 Belt Guidance
Conveyors are manufactured with four side folded semi-suspended pans. This allows fitting of 6 x 4 guides to the underside of the belt. Tracking guides virtually eliminate the requirement for belt tracking, which can cause equipment downtime and loss of production.
89.5 Ø GEARBOX MOTOR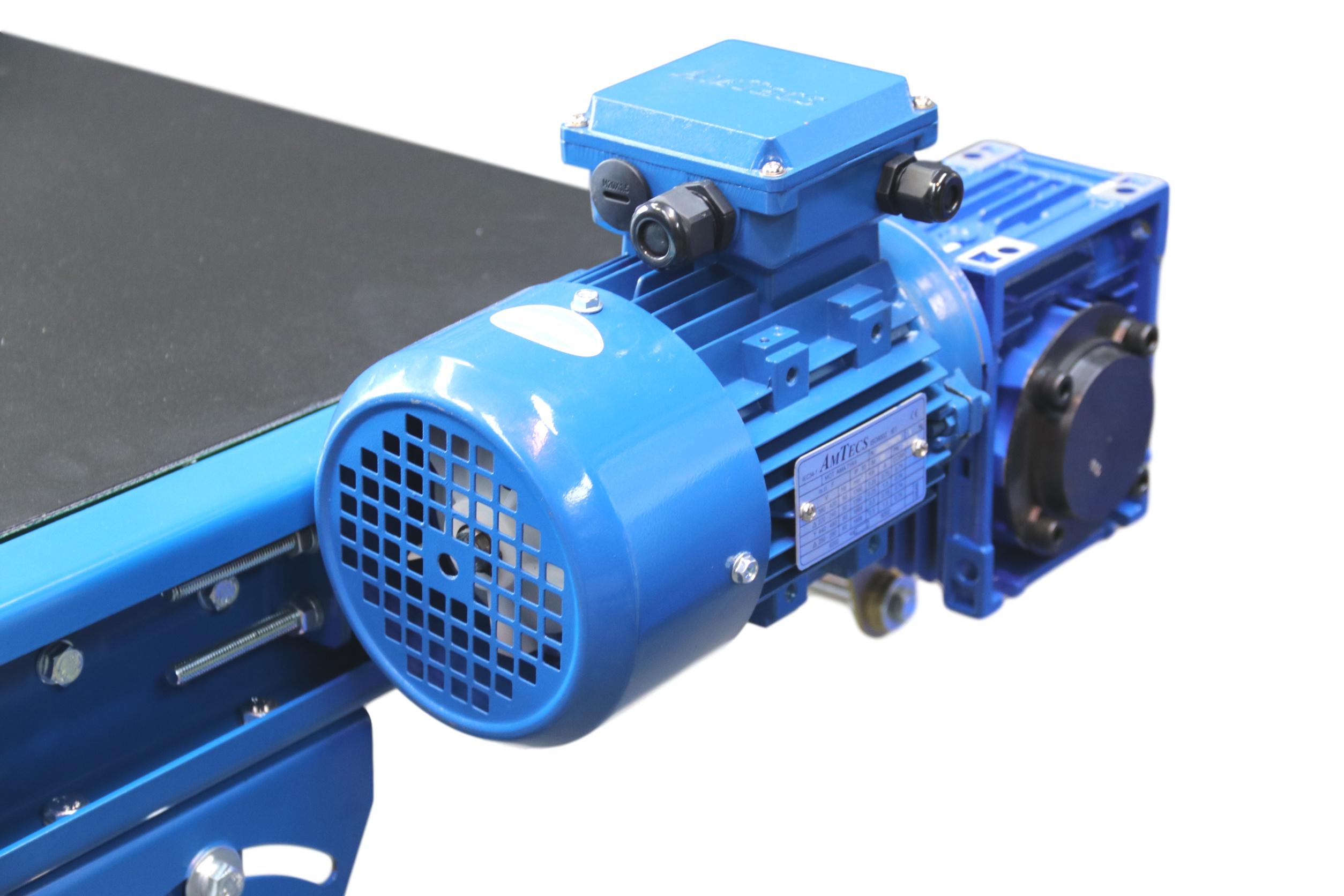 SMG Option
High quality side mounted motor gearboxes from 116mm up to 1016mm Belt width. Low noise, highly efficient.  Operating temperatures -5° up to +40°. Reduction gearboxes give increased speed availability. SMG provides quick and convenient drive replacement.
BELT TENSION UNIT
Belt Tensioning
The standard tension unit provides simple and effective belt tracking and tensioning.
M8 x 95mm Threads, allowing up to 190mm belt tensioning over the conveyor length. This allows endless belting to be fitted as opposed to fasteners.
Joining Plates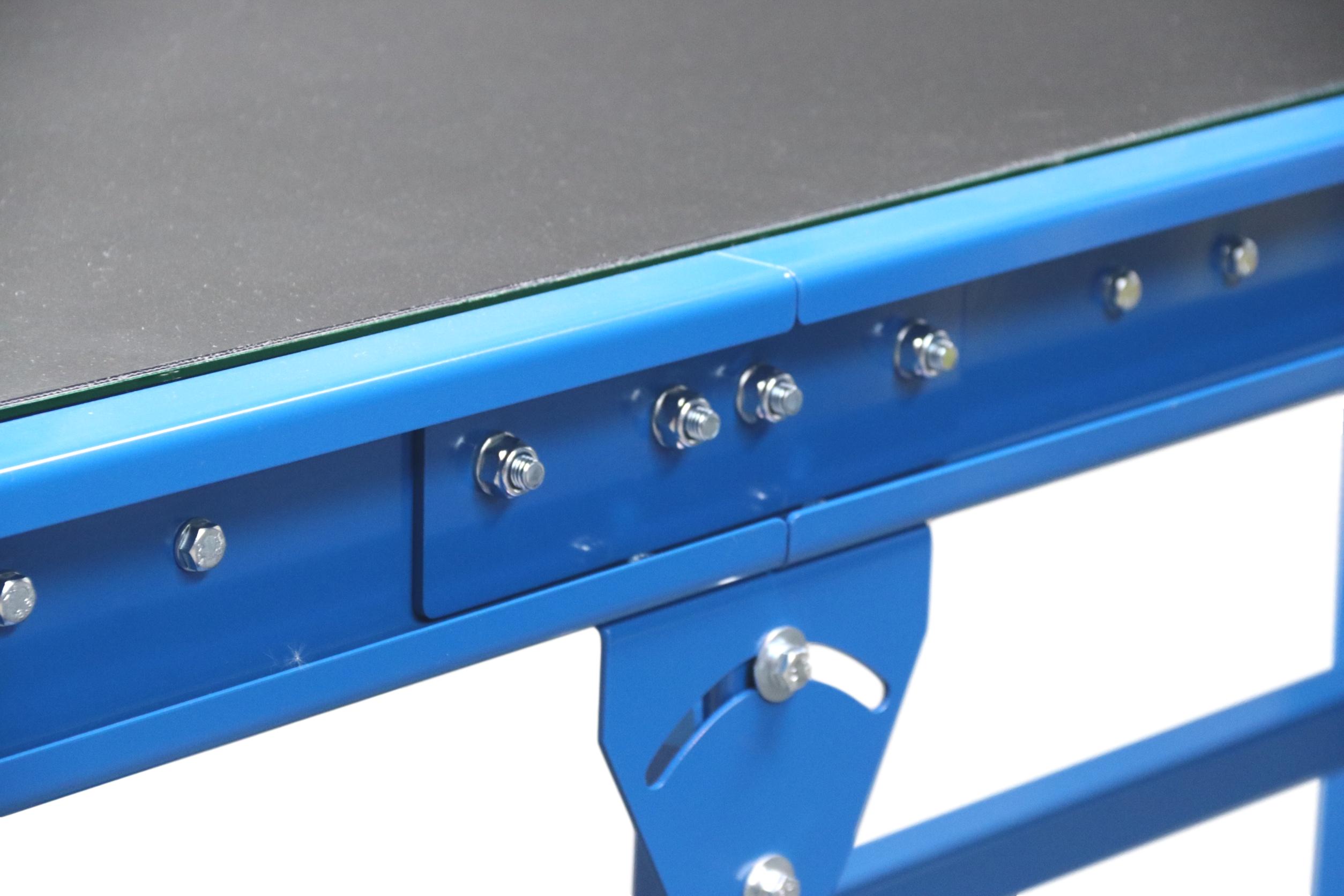 Frame Joining Plates
Belt Conveyors in excess of 2.5m are assembled in multiple sections. Durable 4mm frame joining plates are used in addition to a central supporting stand for added stability.
LOW PROFILE CONVEYOR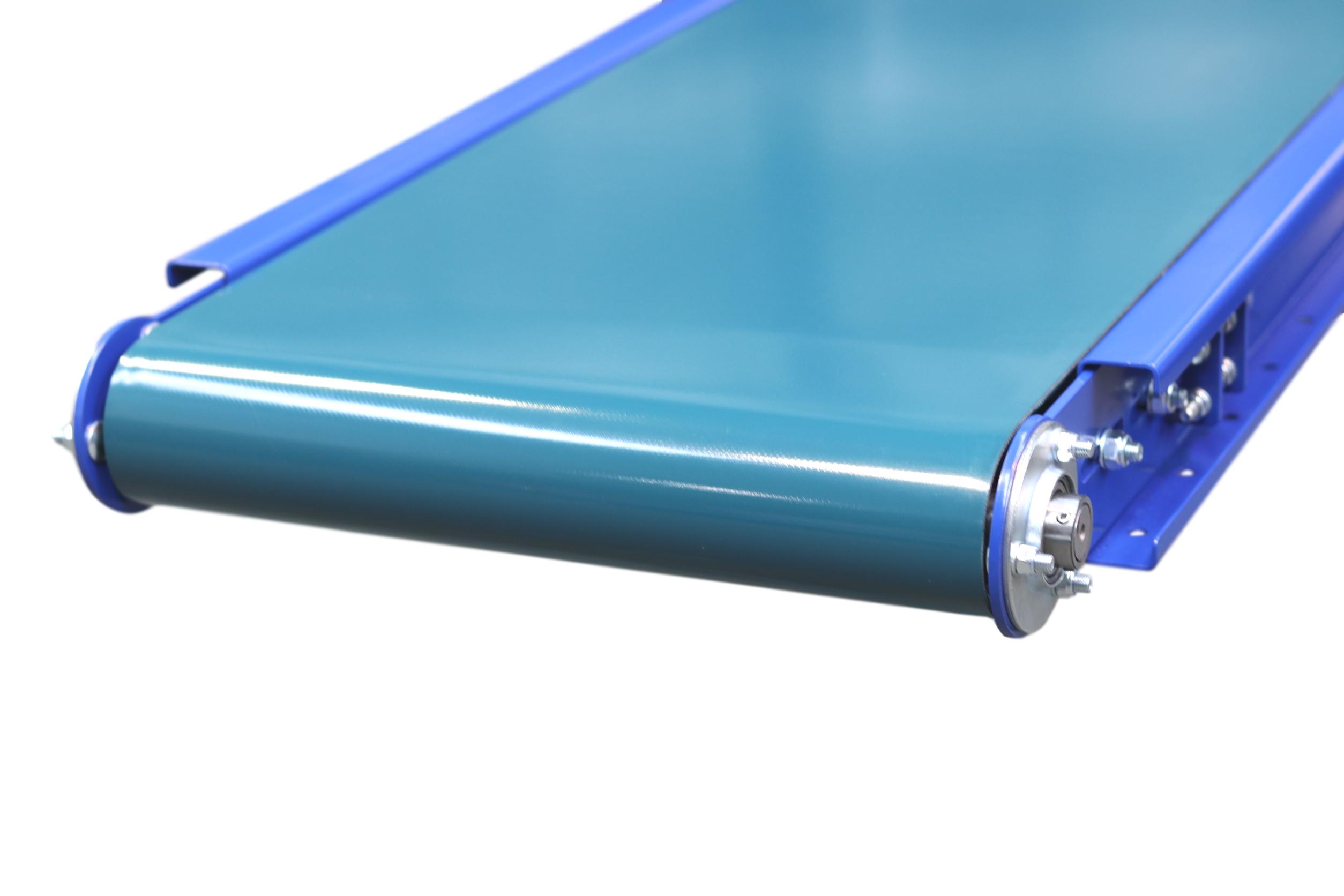 Low Profile Design
KCB 80 Belt conveyors have a 100mm deep side frame profile. This low-level conveyor frame is extremely versatile. Ideal for tight compact spaces, support stands can be inset suiting applications within press machinery, plastic extrusion and other related application where space is critical.
LIGHT DUTY BELT CONVEYORS - KCB 80 OVERVIEW